Waycross Georgia
Waycross Georgia is a lovely place to visit and relocate your family to. Enjoy sightseeing, fishing, lodging, golf, Hotels, nearby beautiful beaches, real estate and don't forget the wonderful weather, we look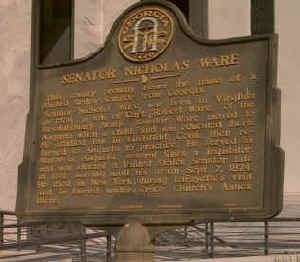 Planning to relocate to Waycross, Georgia, area view local real estate and homes for sale! The quaint shops, fantastic restaurants, comfortable Bed and Breakfasts.!
If you want it, our site probably has it!

Relocate to Waycross Georgia. Buy real estate in Waycross Georgia. With the unique location of Waycross, you can have a custom home built or buy properties on a gated golf course, the ocean or river and in gated communities to live in as your home, condo, a second home manufactured home or an investment property. Waycross has many apartments and homes for rent!
Okefenokee Wildlife Refuge
A short distance west of Waycross and you will find yourself in a world where boats are the main form of transportation. Okefenokee, an Indian name meaning "Land of the Trembling Earth," is a vast wetland area encompassing around 400,000 acres of canals and moss-draped cypress trees.
The Laura S. Walker State Park is available. This is the ONLY park ever named for a person who was still LIVING when so named, Laura Singleton Walker, my great grandmother.
Visitors to the refuge can enjoy guided boat tours or paddle their own boats as they encounter the hundreds of species of plant and animal life, including the often photographed alligators, which call the Okefenokee home. Fishing, camping, picnicking, and bike rentals are also available.

Waycross is located in the heart of Southeast Georgia,
at the northern tip of the Okefenokee National Wildlife Refuge. It is a city filled with Southern hospitality and charm. From the Historic Downtown district to the swamplands of the Okefenokee, there is something for everyone. Visitors can experience the traditional down-home cooking at the local restaurants and slip away into comfort at one of several accommodations. Attractions such as the Okefenokee Swamp Park and Obediah's Okefenok, give an in-depth look at a one of a kind ecosystem, including the wildlife, plant-life, and pioneer life in the area. Train enthusiast can catch a glimpse of the train traffic coming in and out of the second largest computerized yard for CSX in the U.S. by relaxing on the Visitor Center patio in Downtown. For those who love history, there are the Okefenokee Heritage Center and Southern Forest World museums, and a Historic Walking Tour guide book available for the Downtown area.

After just one visit people like you chose this area as their Winter Homes and as full time residents.
We offer real estate listings in the following cities / Areas:
Ponte Vedra Beach Fl | St. Mary's Ga | Jacksonville Fl | South Carolina
World Golf Village | St Augustine, Fl | Daytona Beach, Fl | Palm Coast Fl
Gainesville, Fl | Southern California | Norfolk ~ Virginia Beach, Va.
& View All our "SPECIALS"
Waycross Ga Coastal Georgia Waycrossgeorgia, A visitors and new residents guide to Waycross Georgia real estate, vacation rentals, hotels, golf, lodging, restaurants, employment, personals, professional services, apartment and home rentals, maps in Waycross Ga | Coastal Georgia!