Tybee Island Georgia is a lovely place to visit and relocate your family to. Vacation Rentals are available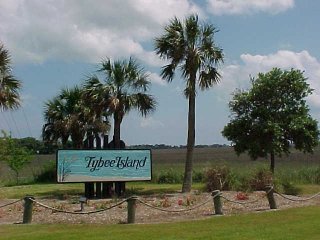 for your every wish.
View our Vacation Rentals Now! Enjoy sightseeing, fishing, lodging, golf, Hotels, nearby beautiful beaches, real estate and don't forget the wonderful weather, we look
Planning to relocate to Tybee Island, Georgia, area view local real estate and homes for sale! CONTACT US . We look forward to seeing you here. CONTACT US for your personalized, custom real estate search!
The quaint shops, fantastic restaurants, comfortable Bed and Breakfasts, ....!
If you want it, our site probably has it!

Relocate to Tybee Island Georgia. Buy real estate in Tybee Island Georgia. With the unique location of Tybee Island, you can have a custom home built or buy properties on a gated golf course, the ocean or river and in gated communities to live in as your home, condo, a second home manufactured home or an investment property. Tybee Island has many apartments and homes for rent!
Tybee Island is an island and a present-day city in Chatham County, Georgia near the city of Savannah. As of the 2000 census, the city population was 3,392. The island, which includes the city of the same name, had a population of 3,713.

Tybee Island may be best known outside of Georgia as the home of the Tybee Bomb, a nuclear weapon that was lost offshore on February 5, 1958. Officially renamed "Savannah Beach" in a publicity move at the end of the 1950s, the city of Tybee Island has since reverted to its original name (although maps show the use of the name "Savannah Beach" as far back as 1952 on official state maps). The small island, which has long been a quiet getaway for the residents of Savannah, has become a popular vacation spot with tourists from outside the Savannah metropolitan area.
Tybee Island is also the site of the first of what became the Days Inn chain of hotels.

History:
Tybee Island was originally inhabited by the Euchee Native American tribe and gave the island its name: tybee is a Euchee word for salt.

Later, in the 1500s the Spanish laid claim to the island and named it Los Bajos. It was at the northern end of the Guale missionary province of Spanish Florida. During that time the island was frequented by pirates who used the island to hide from those who pursued them. Pirates later used the island's inland waterways for a fresh water source. After the founding of South Carolina in 1670, warfare increased between the English and Spanish and their allied Indians as well as South Carolina's pirate allies. In 1702 James Moore of South Carolina led an invasion of Spanish Florida with an Indian army and a fleet of pirates. The invasion failed to take the capital of Florida, St. Augustine, but did destroy the Guale and Mocama missionary provinces, raiding and enslaving Indians throughout the Sea Islands, including Tybee Island. After another invasion of Spanish Florida by South Carolina in 1704, Spanish power was limited to St. Augustine and Pensacola and the Sea Islands were depopulated, allowing the establishment of new English settlements such as the colony of Georgia.

In 1733 English settlers led by James Oglethorpe settled on Tybee Island before moving on to settle eventually in Savannah. In 1736 John Wesley, founder of the Methodist Church, arrived on Tybee Island.

We also offer near by real estate resources for St. Mary's Georgia and other "SPECIALS"
Tybee Island Ga Coastal Georgia TybeeIslandgeorgia, A visitors and new residents guide to Tybee Island Georgia real estate, vacation rentals, hotels, golf, lodging, restaurants, employment, personals, professional services, apartment and home rentals, maps in Tybee Island Ga | Coastal Georgia!