Richmond Hill Georgia
Richmond Hill Georgia is a lovely place to visit and relocate your family to. Enjoy sightseeing, fishing, lodging,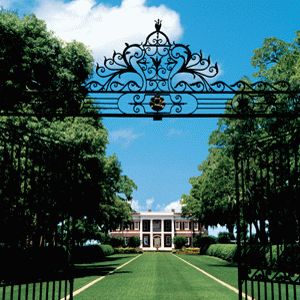 golf, Hotels, nearby beautiful beaches, real estate and don't forget the wonderful weather, we look forward to seeing you here. CONTACT US for your personalized, custom real estate search!
The quaint shops, fantastic restaurants, comfortable Bed and Breakfasts, ....!
If you want it, our site probably has it!
Vacation in Richmond Hill, Ga. Vacation rentals
Relocate to Richmond Hill Georgia. Buy real estate in Richmond Hill Georgia. With the unique location of Richmond Hill, you can have a custom home built or buy properties on a gated golf course, the ocean or river and in gated communities to live in as your home, condo, a second home manufactured home or an investment property. Richmond Hill has many apartments and homes for rent!
After just one visit they chose this area as their Winter Home... Clara's dream house was built on the site of Richmond Plantation, which was burned by General Sherman just as he ended his March to the Sea at nearby Fort McAllister.
Ford's holdings eventually totaled 85,000 acres of old Southern Plantations.

Just 20 minutes from Historic Downtown Savannah, with convenient access to I-95 and the many available services at Exits 14 & 15, it's easy to see why RICHMOND HILL, GEORGIA is a favorite stopover for the coastal Georgia traveler.

Fort McAllister, noted as the "End of Sherman's March to the Sea" is one of the most beautiful coastal state parks and best preserved earthen underground forts of the Confederacy. Features include tours of the fort and Civil War Museum, tent and RV sites, a 1.3 mile hiking trail, bike paths, boat ramps, docks and fishing piers. Enjoy annual special events such as Memorial Day, Labor Day, Winter re-enactments and 4th of July BBQ Picnic and Craft Show.
We also offer near by real estate resources for St. Mary's Georgia and other "SPECIALS"
- Historic and Recreation Points of Interest -
FORT MCALLISTER STATE PARK
STRATHY HALL (circa 1840)-Early "Plantation Plain" Style
FOLLY FARMS (circa 1850)-Originally Myrtle Grove Plantation
BRYAN NECK PRESBYTERIAN CHURCH-1885
BURNT CHURCH CEMETERY
BRYAN NECK MISSIONARY BAPTIST - 1869
KILKENNY HOUSE (circa 1837) - Early Greek Revival
FORT MCALLISTER STATE PARK & MUSEUM
FORD KINDERGARTEN MUSEUM - Ford Memorabilia (1937)
FORD COURTHOUSE (1938)
FORD COMMUNITY HOUSE (1936)
MARTHA-MARY CHAPEL (1936) Now St. Anne's Catholic Church
FORD PLANTATION (1935) On The Ogeechee River
KILKENNY MARINA & CAMPGROUND
KOA CAMPGROUND
WATERWAY RV PARK
BLACK CREEK GOLF CLUB
FORD KINDERGARTEN MUSEUM - Ford Memorabilia (1937)
WATERFORD LANDING GOLF COURSE
Local History

Richmond Hill forms the southeastern corner of Bryan County (named for Revolutionary War patriot Jonathan Bryan) and is located at 31°56' 17" N, 81° 18' 49" W. It has a total area of 10 square miles.

A Scotsman, James Dunham, was one of the original settlers of this area and owned the swamp just down the road from the location of the new Dunham Marsh community. His nephew Jacob was the first person baptized in the region and some of his descendents still live in the coastal Georgia area.

Richmond Hill itself was originally known as Ways Station, a sleepy railside hamlet just south of Savannah. The local area was largely agricultural through the 18th and 19th centuries. Silk was the primary product until the 1760s when plantation owners discovered a better market for rice. This became one of America's largest producers of rice until the mid 1800s when Yankee troops and hurricanes destroyed most of the rice mills and dikes.

Richmond Hill was transformed in the 1930s with the arrival of automotive giant Henry Ford. Enchanted by the beauty of the local marshlands, rivers and terrain, Ford purchased 75, 000 acres here and built his winter estate in 1937. The estate is now known as the Ford Plantation along the Ogeechee River in the 1930s. The name "Richmond Hill" is thought to have been derived from Ford's fondness for the same town in Ontario, Canada which was not far from his home in Michigan.

Ford was also responsible for the construction of a number of public buildings, including a schoolhouse which now houses the museum of the Richmond Hill Historical Society, and a chapel which now houses St. Anne's Catholic Church. Both are located on Georgia Highway 144, also known as Ford Avenue within the Richmond Hill city limits. The Ford Plantation has now been redeveloped as a luxury private recreational community, with magnificent residences, vacation cottages, a clubhouse, tennis, and golf.

Richmond Hill changed to its current name in 1941 and was incorporated in March 1962. The current Mayor is Richard R. Davis, who has served in that capacity since 1989 and was last reelected to a four year term in November 2005. The city is governed by the Mayor and a four member city council.

A large percentage of South Bryan residents live outside the city limits of Richmond Hill, especially in a number of planned developments east of the city along S.R. 144. This area contains large amounts of marsh and riverfront property, Fort McAllister Historic Park, and the small hamlet of Keller, which is near Dunham Marsh.

Geographically, it is significantly larger than the municipal limits of Richmond Hill itself. However, the area is largely residential, and as a result, residents of the entire South Bryan area rely on Richmond Hill proper for basic services and generally say they "from Richmond Hill."
Richmond Hill Ga Coastal Georgia RichmondHillgeorgia, A visitors and new residents guide to Richmond Hill Georgia real estate, vacation rentals, hotels, golf, lodging, restaurants, employment, personals, professional services, apartment and home rentals, maps in Richmond Hill Ga | Coastal Georgia!