Kingsland Ga
Coastal Georgia KingslandGeorgia
Kingsland Georgia is a lovely place to visit and relocate your family to. Enjoy sightseeing, fishing, lodging, golf, Hotels, nearby beautiful beaches, real estate and don't forget the wonderful weather, we look
Planning to relocate to Kingsland, Georgia, area view local real estate and homes for sale! VIEW NOW.
These properties cover Kingsland, St Mary's, Georgia and the Kingsbay Naval Base.
forward to seeing you here. CONTACT US for your personalized, custom real estate search!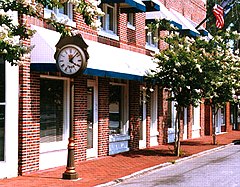 The quaint shops, fantastic restaurants, comfortable Bed and Breakfasts, ....!
If you want it, our site probably has it!
Relocate to Kingsland Georgia. Buy real estate in Kingsland Georgia. With the unique location of Kingsland, you can have a custom home built or buy properties on a gated golf course, the ocean or river and in gated communities to live in as your home, condo, a second home manufactured home or an investment property. Kingsland has many apartments and homes for rent!
Kingsland's Historic Downtown
The city's downtown district is listed on the National Register of Historic Places. A street rebuilding project has returned the charming look to downtown that it had in the 1920's and 1930's, and visitors can wander the bricked sidewalks in search of terrific items on Antique Row.
Okefenokee Wildlife Refuge
A short distance west of Kingsland and you will find yourself in a world where boats are the main form of transportation. Okefenokee, an Indian name meaning "Land of the Trembling Earth," is a vast wetland area encompassing around 400,000 acres of canals and moss-draped cypress trees.
The Laura S. Walker State Park is available. This is the ONLY park ever named for a person who was still LIVING when so named, Laura Singleton Walker, my great grandmother.
Visitors to the refuge can enjoy guided boat tours or paddle their own boats as they encounter the hundreds of species of plant and animal life, including the often photographed alligators, which call the Okefenokee home. Fishing, camping, picnicking, and bike rentals are also available.

Fairs, Festivals, and Events
Year around, you will find great many fun festivals and activities for the entire family to enjoy.

The Labor Day Catfish Festival, held in downtown Kingsland, is an annual event that features a parade, bicycle races, arts and crafts, big-name entertainment, the Catfish 5K Fun Run, and the Catfish Classic Golf Tournament (held at Laurel Island Links). But with a name like the "Catfish Festival," the main attraction has to be mouth-watering catfish prepared in a variety of southern styles.
This popular festival has been named a "Top 20 Event in the Southeast" by the Southeast Tourism Society.

We also offer near by real estate resources for St. Mary's Georgia and other "SPECIALS"
Kingsland real estate in Kingsland, Georgia for sale. Homes for sale. Homes for rent. Buy homes. Buy real estate Kingsland, Georgia.. A visitor and new residents guide to Single Family Homes, Condos, Oceanfront, waterfront, golf, golf homes, gated communities, golf course homes, luxury homes, second homes, vacation homes, investment property and commercial real estate in the Kingsland, area of Georgia